Hotel and tourist news
Look around for a trip in Hungary cheap
We wanted a little trip around Hungary with my friends, so it was obvious to look for some cheap hotels. I wanted to look for some places before we even started to discuss the trip, because I have heard good and bad about last minute reservation. I wanted something simple, but some of my friends has high standards. I accidentally found the site Cheap hotels Budapest but I can only speak positively, because they helped me in everything. Moreover, all of my friends was able to verify where we want to ...
(2011-05-29)
continue:
Look around for a trip in Hungary ...
Discount hotels in Budapest
Anytime you come to Budapest, you surely will find such a hotel where you get complex hotel services at discounted rates. More and more https://www.cheaphotelsBudapest.hu  ensure package offers to its guests which include the accommodation, the board and some extra services (wellness use, bath entrance ticket, airport transfer) at discounted price. The 3- and 4-star hotels in Budapest attract ...
(2013-05-28)
continue:
Discount hotels in ...
Budapest hotels and sights
Travelling to Hungary, people often choose Budapest as a destination, the capital city, which is probably one of the most beautiful cities in the world. Here you can arrive by plain, train, car or bus and then select from various cozy and cheap hotels. The Hotel Ibis Heroes Square and ...
(2013-05-28)
continue:
Budapest hotels and ...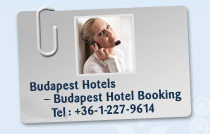 Search free rooms - check room rates